How to Choose a Mattress Protector For Everyone In Your Family
How to Choose a Mattress Protector For Everyone In Your Family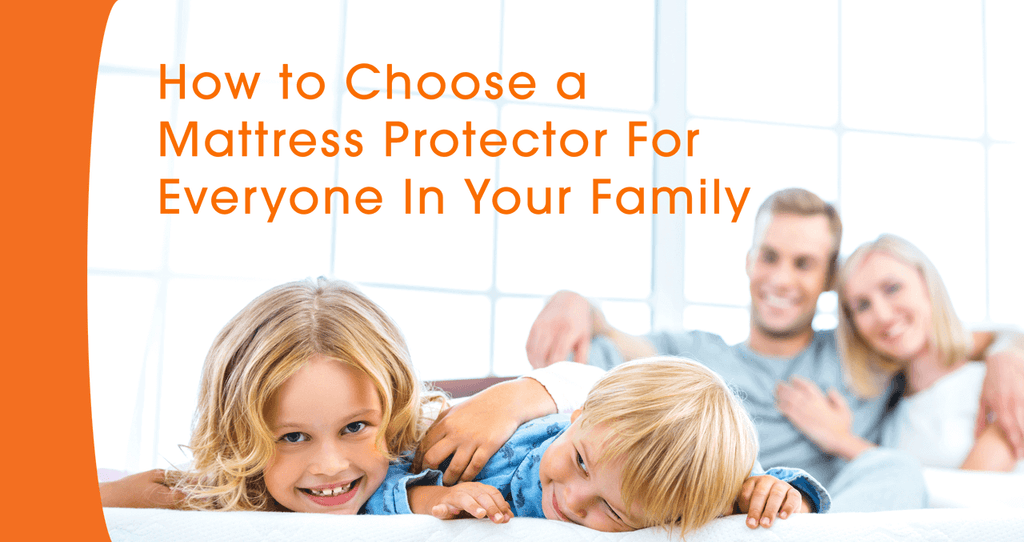 Mattress Protector Buying Guide
There's no denying that mattresses suffer an enormous amount of wear and tear. No matter how careful you are, accidents and spills happen, while pests, allergens, and infestations build up over time, even in the cleanest of homes. Using a mattress protector, mattress topper, mattress pad or mattress cover is a cost effective and efficient way to prolong the life of your mattress, make your bed more comfortable, and help keep your home clean and healthy. But with so many available, how do you know which one is right for you?
We've put together this little guide to the various types of mattress protectors that are available so you can choose the ones that best suit every member of your family.
What is mattress protection?
Have you ever tried to wash your mattress? While sponging it down can help remove surface stains, it is virtually impossible to give your mattress a really deep clean to eliminate all stains and contaminants. This is why mattress protectors are so useful.
Easy to put on and take off, in simple terms, they're a machine washable cover for your mattress, so you can easily get rid of dirt and debris. In addition, they provide an extra layer of protection against insects such as bed bugs and dust mites, as well as sweat, stains and allergens, giving you a healthier bed.
Using a mattress protector can extend the life of your mattress, meaning you don't have to replace it so often, saving you money. That layer also gives you extra padding for your beds, adding more comfort for a better night's sleep.
What's more, they're available in a wide range of sizes, colors, styles, and fabrics, with different varieties designed to offer different types of protection, so you can find one that fits your needs exactly.
Cool Touch Air Flow Waterproof Mattress Protector
What do mattress covers protect against?
Mattress protectors are designed to protect your mattress against a wide range of problems, including:
Wear and tear
Given the amount of time we spend in our beds, it's only natural that they'll suffer from wear and tear as time goes on. Despite your best efforts, your mattress will get dirty and faded or even ripped and torn. A mattress cover offer an extra layer of defense to guard against these issues so your mattress is in good condition for longer.
Spills and stains
Mattress pads and covers can protect your mattress from liquid spills. When your mattress becomes damp, mold and mildew can develop, causing an unhygienic sleeping environment. That's why we advise waterproof mattress covers if you have an increased risk of fluids in a bed, e.g. because of excessive sweating, you like to eat and drink in bed, you have small children, you have family members who suffer from incontinence, you like to share your bed with your pets, etc.
Allergens
Mattresses can be home to thousands of dust mites, which is one of the most common causes of allergies. A hypoallergenic dust mite mattress cover completely covers the mattress so that dust mites are kept out. You might want to consider using a box spring cover as well for total protection.
Mattress protectors also repel other common allergens, such as pet dander, mold and mildew, making it easier for you to sleep at night.
Bed bugs
As the name suggests, bed bugs love congregating in your bed! They thrive on human and animal blood, so your mattress and pillows are an ideal place for them to live so that they have easy access to their food source. A bed bug-proof mattress cover will repel these nasty creatures by covering the mattress on all sides, creating a barrier that is too thick for the bed bugs to get through. For the ultimate in bed bugs protection, combine your mattress cover with a box spring cover designed to guard against bed bugs. You might even want to use entomology lab certified pillow covers too to ensure you're completely protected.
The different types of mattress protectors
There are three main types of mattress protectors.
5-sided mattress protectors act like a fitted sheet, covering the top and all four sides of the mattress, with an elastic edge to keep it in place. These types of mattress protectors frequently come with a waterproof top surface, making them ideal if you need to protect your mattress from fluids, e.g. drinks, incontinence, etc. These types of mattress covers also help guard against wear and tear, although they do not offer total protection against bed bugs.
Plush Bamboo Mattress Topper surrounds 5 sides of your mattress
Alternatively 6-sided mattress encasements cover the whole mattress, a little like putting the mattress into a big bag. These types of mattress protectors are fantastic if you need to protect your mattress against bed bugs. For total peace of mind, choose a mattress that features a micro-tooth zipper to minimize the chances of bed bugs getting in and out of your mattress.
The Bed Bug & Waterproof Mattress Encasement/Protector is a 6-sided protector
If you're looking to make your mattress more comfortable, you might prefer to use a soft mattress topper. These are a great way to make economical mattresses feel like they're a luxury brand and many mattress toppers come with hypoallergenic in addition to providing a plush layer to sleep on.
A mattress topper provides a softer, more comfortable sleep and helps protect the top surface of your mattress
Choosing the right mattress protector
With so many options available, choosing a mattress protector or mattress topper can be quite overwhelming. Here's a few things that you'll want to think about when choosing which one to buy:
Size
It might seem commonsense, but the size of your mattress will dictate what size mattress topper you need. Measure your mattress length, width, and depth to make sure you buy a mattress protector that fits your mattress completely so that you know that you've got total protection. So a King mattress will need a King mattress pad protector, a Queen mattress will need a Queen mattress pad protector, and so on. There are even Twin XL protectors for college dorm mattresses.
Features
Why are you buying a mattress protector? Is it to give you a more comfortable bed? Protect against wear and tear? Keep the bed bugs out? If you want extra padding for your beds, consider something like the Ultra Soft Microplush Fitted Mattress Topper. With deep pockets up to 18" to fit even deep mattresses, its rich texture and cloud like super plush filling, you'll enjoy blissful sleep night after night.
Ultra Soft Microplush Fitted Mattress Topper
If your child is still bedwetting or you want to protect your bed from your pet having a little accident, you might choose an incontinence pad. Suitable for both children's and adult's beds, these offer great protection for your mattress, while the ultra-soft bamboo terry means that the mattress stays comfortable, even with the waterproof mat.
Ultra Absorbent Waterproof Sheet Protector / Incontinence Pad
If allergies are keeping you awake, a hypoallergenic mattress topper will really help improve sleep quality. The Ultra Soft Down Alternative Mattress Topper gives you the luxurious feel of duck and goose down without the allergy inducing impact of feathers.
Added comfort
Different people have different tastes when it comes to what makes their bed comfortable. The Cool Touch Waterproof Mattress Protector dissipates heat and remains cool for those who prefer lower temperatures to sleep, while the Cozy Knitted Waterproof Mattress Protector is great for those chilly winter months.
If your number one priority is softness, our Ultra Soft Waterproof Mattress Protector features organic Tencel© for a softer than silk feel. Suitable for year round use, it offers high levels of protection against bed bugs and dust mites, as well as allergens, while being 100% waterproof against any accidents.
Ultra Soft Waterproof Mattress Protector with Organic Tencel
Breathable protection
A mattress topper allows for air flow so that the mattress can breathe, giving you a cooler night's sleep. For example, the Ultra Soft Gel Memory Foam Mattress Topper makes a real difference to the comfort level of your bed. You can use a mattress topper to alleviate pain, which makes this a particularly good choice for pregnant women, the elderly and those suffering with back pain or recovering from surgery.
Ultra Soft Gel Memory Foam Mattress Topper
Alternatively, if you need a mattress cover with 100% waterproof properties, the Soft Cotton Terry Waterproof Mattress Protector is an ideal choice. The cotton terry surface is breathable and, unlike many waterproof fitted sheet covers, is noiseless, making for a more restful night. The fitted elastic skirt resists stains and means that the protector stays in place, even with the most restless of sleepers.
Fully washable
One of the main purposes of a mattress protector is to prolong the life of your mattress by protecting against accidents, spills or stains, which means that it can get grubby. This means that you'll want a mattress protector that's easy to remove and wash. Regular washing of your mattress protector will make sure that your bed is always clean, hygienic and smells good.
The Cheer Collection mattress protectors are machine washable for your convenience, and can even be tumble dried on low or no heat making it a perfect choice for those who enjoy luxury without high maintenance.
Another easy mattress protector is our Plush Velvet Waterproof Mattress Protector, which is a fantastic choice of those who want full protection for their mattress. It is the ultimate in luxurious comfort, with its soft velvet feel for ultra snugness. Ventilated and breathable for year round use, it offers dust mite and bed bugs protection as well as being hypoallergenic. All this and it's completely machine washable!
With so many choices available, you may still be finding it hard to decide which one to choose.