7 Benefits of Using the Right Body Pillow During Your Pregnancy
7 Benefits of Using the Right Body Pillow During Your Pregnancy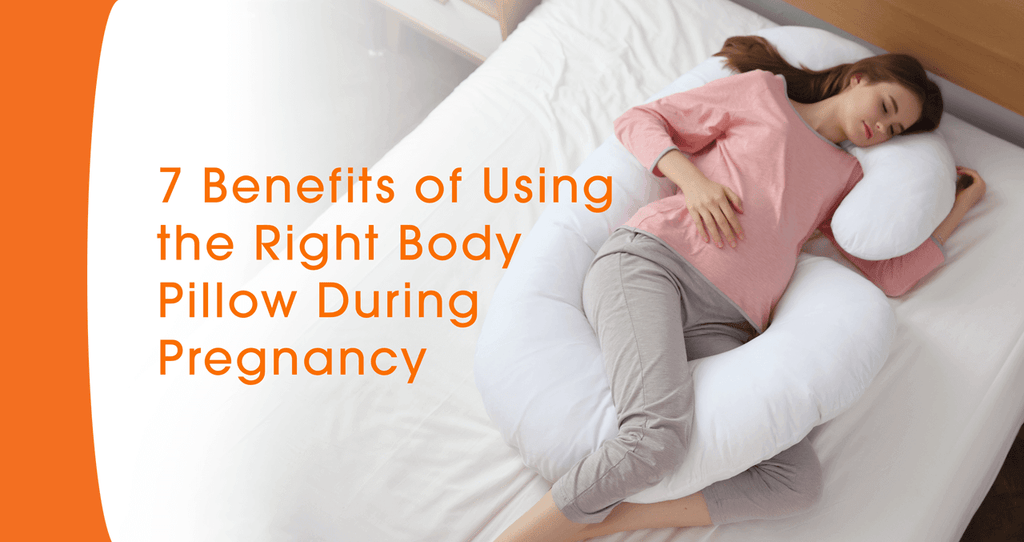 Pregnancy Pillow Buying Guide
Pregnancy is a wonderful time. You have all the excitement of bonding with your baby as it grows, picking names, decorating the nursery. But for all the miracle of pregnancy, ask any mom-to-be and she'll tell you that there's some not-so-wonderful aspects too. Many pregnant women suffer from leg cramps and back pain, making it difficult to get comfortable enough to sleep. As the pregnancy progresses, your sleeping positions become limited as your belly grows.
It's crucial to get good rest when you're pregnant to help your body cope with the hard work of growing a baby. Yet it can seem that your body's conspiring against you when it comes to getting any sleep!
A great solution to all these problems is to use a pregnancy pillow.
What is a pregnancy pillow?
A pregnancy pillow is a large, cushy pillow specifically designed for a pregnant woman that comes in different shapes, including body, J and V. They help to make you more comfortable, as well as providing neck, shoulder, and/or joint pain relief as well as sciatic pain relief. Don't be confused by the name - they aren't just good for pregnant women. They're a great pillow for after surgery if you need extra support or simply for those who like the luxury of a large body pillow to snuggle up to.
Read on to discover seven of the many benefits to using a maternity pillow during your pregnancy.
1. They give your body support
As your body shape changes during pregnancy, you are likely to need more support for different parts of your body to help prevent aches and pains. Expectant mothers suffering from neck and back ache may find that it helps to lie in a half-fetal position with a good pillow such as the Premium Total Body J Shaped Pillow. Using a pillow to align your knees and hips will help relieve pressure on your spine, back and hips and help improve your body's alignment.
J-Shaped Down Alternative Pregnancy Body Pillow
2. They help your blood circulation
Healthcare professionals recommend that pregnant women sleep on their left side as the baby develops. Not only is this believed to encourage the baby to get in the optimal position for birth, it also has a positive effect on your blood circulation by providing the appropriate support and relieving pressure on your body. The Down Alternative Premium 15" x 100" Total Body Pillow is a full length pillow that you can mold around yourself to provide support where your body needs it most. It tucks between your knees or, if you prefer, you can use it as a wedge underneath your bump.
Ultra Premium Down Alternative Full Length Body Pillow
3. They can help with your allergies
Even if you've never suffered from allergies before, pregnancy hormones can make women more likely to develop allergies, respiratory problems or skin rashes. Choosing a hypoallergenic pregnancy pillow such as the Hypoallergenic Down Alternative 19" x 90" Total Body Pillow can help you avoid unpleasant reactions while the down alternative filling gives you all the luxurious support you need.
Down Alternative 19" x 90" Total Body Pillow
4. They can relieve heartburn
As the baby grows, there's less space for your internal organs, and many women find that they suffer heartburn as a consequence. This can be particularly bad when you settle down to sleep in a horizontal position. One very easy way to ease heartburn and acid reflux is to use the V-Shaped Hypoallergenic Down Alternative Pillow to elevate your upper body while you sleep.
V-Shaped Hypoallergenic Down Alternative Pillow
5. They make you more comfortable
It is easy to think that being uncomfortable is an inevitable part of being pregnant. However, a good maternity pillow, such as the Three Section Supportive Pregnancy Body and Nursing Pillow, cushions your body, its softness helping you relax and unwind. Using a body pillow also ensures that you don't wind up sleeping on your belly, which is both uncomfortable and dangerous. It isn't only pregnant women who can use these pillows either. After you've given birth, this pillow is great for nursing. You can fold it over to help elevate your baby for a comfortable nursing position.
In addition, if you're suffering from chronic back pain, body pillows can also serve as a back pain pillow.
Three Section Supportive Pregnancy Body and Nursing Pillow
6. They help you stay in a good position
Using a pillow to cradle your belly as your bump grows helps to prevent tossing and turning. The Down Alternative Premium 20" x 54" Side Body Pillow is fantastic if you're looking for pillows for side sleepers. It's designed to support you while you sleep on your side, so even if this is not your preferred position, e.g. because you're a back sleeper, it is easier for you to stay in a good position to enjoy a healthy night's sleep.
Ultra Premium 20"x54" Down Alternative Body Pillow
Alternatively, wedge pillows such as the Ultra Supportive Oversized Reading & Anti Acid Reflux Wedge Pillow are very versatile. You can put them underneath your bump to prevent you rolling over in your sleep, use it to elevate your head to alleviate acid reflux, or even use it to support your lower back when sitting up in bed or on the couch.
Ultra Supportive Oversized Reading & Anti Acid Reflux Wedge Pillow
7. They are useful after the baby arrives
One of the best things about pregnancy pillows is how versatile they are. You'll find yourself getting plenty of use out of it after the baby arrives. For example, the U-Shaped Down Alternative Pregnancy Body Pillow can be used to support the baby during feeding or used as a barrier when you lie the baby down so that they don't roll over and hurt themselves. Using a body pillow with removable pillowcase makes it very easy to clean, so even if there's an accident, you can simply put the pillowcase in the washing machine and it's good to go.
U-Shaped Down Alternative Pregnancy Body Pillow
It isn't just babies who love body pillows either. Sophie Childs is a mom of five who used a maternity pillow through all of her pregnancies. She told us, "I loved how the pillow supported my bump so that I could lie on my side without getting backache. It was really useful in my third trimester too. I had terrible heartburn and I found that sleeping with my head higher than usual helped make it better. After the babies arrived, I used the pillow to give them extra support during nursing. My oldest daughter loved my body pillow so much that when she was older, she asked for one for her birthday and now she cuddles up with it every night!"
There are so many reasons why a pregnancy pillow is a real essential for pregnant women. Why not treat yourself or someone you know and discover for yourself the huge difference it makes to your sleep.
Click here to learn more about the wide selection of Cheer Collection pregnancy pillows.
Click (read here) for an article from MomLovesBest.com on How to sleep with a pregnancy pillow.