4 Types Of Pillows For Sleeping & How To Choose Them
4 Types Of Pillows For Sleeping & How To Choose Them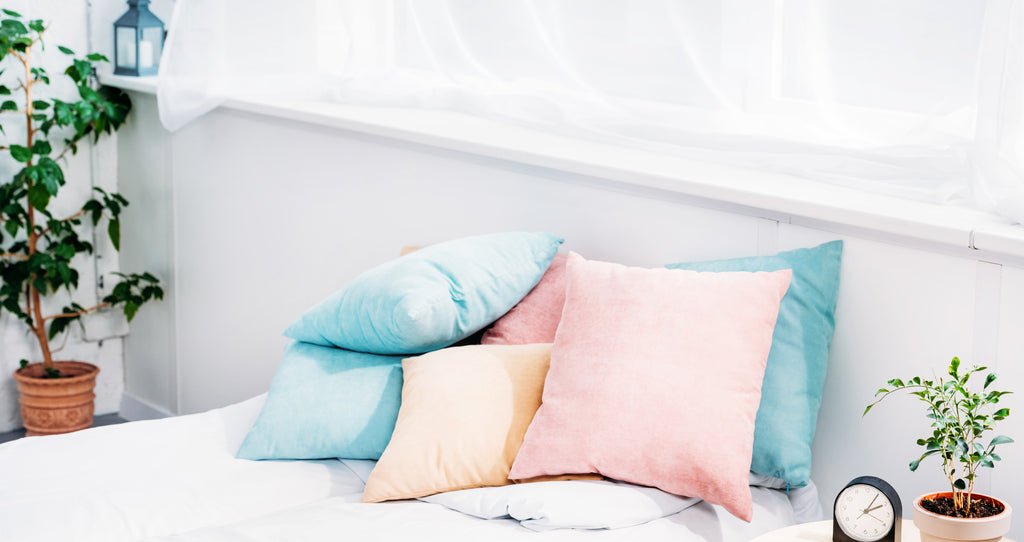 It is important to know the different types of pillows and which ones are best for your sleeping position in order to avoid waking up with a sore neck regardless of how you like to hit the hay. If you are a side sleeper, for instance, you should try to get a pillow with a higher loft and a softer fill. Pillows that are medium-firm to medium-soft and have a lower loft are best for stomach sleepers because they allow the neck to be propped at a more natural posture. Those who want to sleep on their backs should look for a pillow that lets their neck be properly supported but not strained.
Read on to find out the many pillow options and which ones work best for your preferred sleeping posture.
Down Pillows
Made from the fluffy undercoat of a goose, duck, or swan, down pillows are incredibly comfortable. Since down pillows are frequently filled with a combination of feathers and down, you should check the down-to-feather ratio before making a purchase.
Suitable For: Sleeping on your side, back, or stomach will all be comfortable with down pillows. Because of its loft and fluffiness, down is a great option for stomach sleepers looking for a supportive pillow.
Down Alternative Pillows
Synthetic down-substitute pillows are an alternate option to the traditional down pillow. Most pillows that are not filled with down are stuffed with polyester that is designed to feel like down. Because of the use of polyester, down-substitute pillows are hypoallergenic and much more reasonably priced. They are a perfect substitute for a feather pillow if you prefer the softness of down but do not want to use real feathers.
Suitable For: Pillows made of synthetic materials are better for those who sleep on their back or side. While down-substitute pillows are great for back and side sleepers, their soft and fluffy nature makes them ideal for stomach sleepers as well.
Feather Pillows
Traditional feather pillows are filled with a supportive material that retains its shape well. For softness and support, nothing beats feathers as a filler material. Those who are allergic to down should check the composition of a feather pillow before buying it, as many of them are filled with a small quantity of down in addition to the feathers.
Suitable For: Sleeping on your back or side will be comfortable with these. Similarly to down pillows, feather pillows are soft and fluffy, but their higher loft makes them particularly well-suited for side and back sleepers.
Cotton Pillows
There has been a shift away from cotton pillows and toward those made of more modern synthetic materials, such as memory foam. However, traditional cotton pillows have benefits, especially for those with synthetic-material allergies. Also, cotton pillows are easily washed, so you can keep using them for longer.
Suitable For:
These accommodate those who sleep on their sides, backs, or bellies. Cotton pillows are adaptable and suitable for the vast majority of sleepers, but unlike memory foam or feather pillows, they will not take the shape of your head.